Providing all types of repairs, remodeling, and replacement work!
Your first choice for a quality, dependable, roofing, siding, masonry, gutter and skylight contractor!
Expert installation of life- time gutters and gutter guard systems! Aluminum ,Copper and galvanized steel
half round and K style gutters. Leaf Relief and reverse curve Gutter Helmets. Many colors available.


Gutters
Gutters are essential. When water drains off of a roof, it needs to be collected and diverted away from the structure in order to preserve the integrity of the materials below.

Riedel Roofing and Restoration provides the highest quality gutters in the industry with the use of the latest in seamless gutter machinery technology.

Riedel Roofing and Restoration is pleased to provide k-style gutters to our customers looking to add functional and aesthetic value to their home.
Seamless Advantages
K-style seamless gutters are a great investment in the longevity and value of your home or business.
Advantages:
Aesthetics
: Seamless gutters are created with one piece of tubing. This eliminates unsightly bolts and seams.
Fewer leaks
: Since there are no joints found on seamless gutters, the leaks often seen near the joints of traditional gutters are eliminated.
Maintenance
: The lack of joints in seamless gutters means less damage, which means less maintenance will need to be done by the owner.
Riedel Roofing and Restoration will inform property owners on the best gutter choices for their individual needs. There are a variety of different materials and colors to choose from, which allows your gutters to perfectly match the aesthetics of your home or business. Leaks are virtually eliminated and every seamless gutter is specifically crafted to match the structure in which it will be installed.
Gutter Basics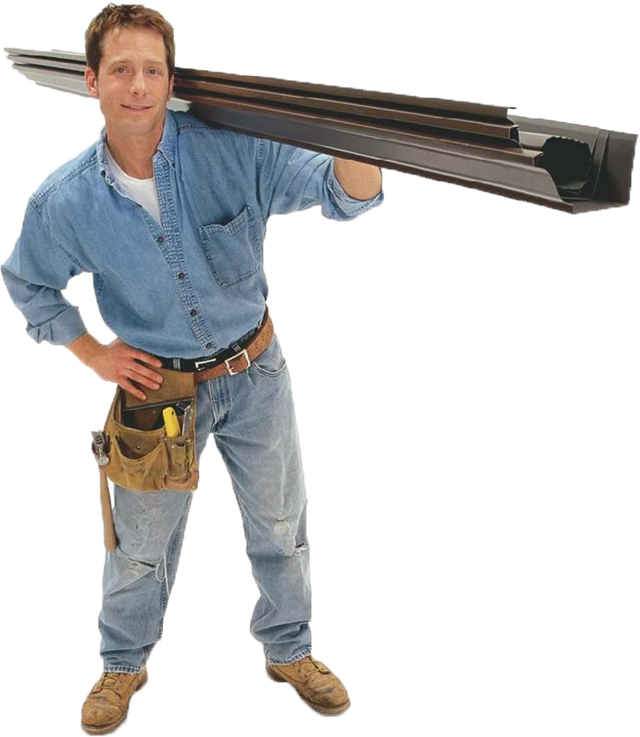 Gutters ensure that water never deteriorates a structure, causing unnecessary damage. Water that has been flowing in the same location will eventually start to erode the area it comes into contact with. In the case of a home, this erosion normally occurs around the foundation. When this happens, small cracks start to form in the foundation. If the flow of water is allowed to persist the foundation will become unstable.
Properly installed gutters divert the flow of water safely away from your home.
If gutters are installed improperly, damaged or not present, a structure may experience the following:
Foundation damage
Basement flooding
Interior Flooding
Exterior damage
Gutter Materials
Gutters are available in several different materials.
Commonly used materials are: