Providing all types of repairs, remodeling, and replacement work!
Your first choice for a quality, dependable, roofing, siding, masonry, gutter and skylight contractor!

Gutter Protection
There are many reasons why you should consider putting gutter protection on your house.
Here is a list of benefits for Installing Gutter Covers on your home:
To eliminate costly damage to your home because of: clogged gutters, foot traffic, ladders, even mold and mildew. Prevent foundation cracking or leaking, wet walls, flooding basements and crawl spaces, as well as sagging gutters.
Stop using your precious time on the dirty and dangerous work of climbing a ladder to clean debris from your homes gutters.
Protect your gutters, landscaping windows, doors, fascia, soffit, siding and brick.
Safety - No more getting on old step ladders and climbing around on your roof to clean your gutters.
Preserve your home and add curb appeal.
As you can see from this list there are many reasons to install gutter protection. There are different kinds of gutter protection as well. Below you will find some recommended gutter protection companies. The choice is up to you. Pick something that best fits your homes style!

By now, you probably have come to the same conclusion that tens of thousands of other homeowners have realized; installing a gutter protection system on your valuable home is a smart idea.
Yet, you have probably also learned that there are dozens of leaf protection devices that claim to do the best job. We know this makes it very difficult for you to decide what product is truly best for you.
Spring and Summer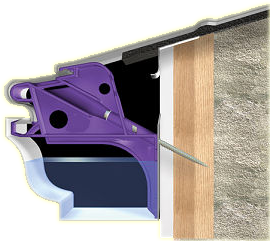 Heavy rains are no match for GUTTERMONSTER - it can handle up to 10"+ of rain per hour, and it uses a unique, patent-pending corner system with diverters, to disperse water evenly along the roofline.
GUTTERMONSTER helps prevent damage to landscaping by keeping water in your gutters, with no overflow.
The Kynar-500 finish is the finest material to prevent blistering, peeling, and fading from intense summer sun loads. Guaranteed to thirty years.
Fall
STOP cleaning your gutters
Water goes into your gutters, while leaves and debris go right over the top
Winter
GUTTERMONSTER gives the best support in the industry for snow and wind loads.
Icicles will form AWAY from your home and roof line - which means water is collecting AWAY from your home, and not in your attic.

America's #1 Choice in Gutter Protection for over 30 Years!
With Gutter Helmet installed, you can forget about climbing that ladder and risking serious injury. Also, you won't have to pay anyone to clean your gutters ever again. Gutter Helmet's patented design keeps out leaves, twigs, pine needles and other debris to give you piece of mind and clean gutters. Rain water flows freely through your gutters and into the downspouts. With Gutter Helmet, you will Never Clean Your Gutters Again
Gutter Protection for a Lifetime
Engineered to last a lifetime, Gutter Helmet installs over new or existing gutters. Gutter Helmet is made of high quality durable aluminum and it's reinforced with Horizontal Stiffening Ribs. Only Gutter Helmet has a unique textured surface and a PermaLife coating that will not chalk, crack or peel. Additionally, it's available in a variety of gutter colors to blend with your home's roof, so it beautifies as it protects! Simply put, Gutter Helmet is made to last a lifetime.
Gutter Helmet's patented gutter system only allows water to enter your gutters. Leaves, twigs, and gunk stay out! The secret of our gutter protection system is its textured surface, which makes the rain cling to it as it flows downward. The edge of Gutter Helmet is rounded and extends beyond the gutter. Rainwater curves around the edge and flows into a slit so narrow that debris cannot pass through. Gutter Helmet catches rainwater, and only rainwater! Even though the slit is only 3/8" wide, Gutter Helmet has been proven to handle 22 inches of rain an hour without overflowinga rate which is more than twice the amount of rain ever recorded in the U.S.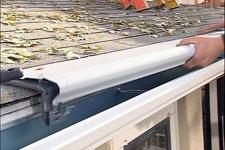 Filters Out Leaves and Twigs
While Gutter Helmet is busy capturing every drop of rain that falls on your roof, it is also rejecting every leaf, twig and bits of debris that come along with the rain. As rain flows around the rounded edge and into the gutter through the small slit, leaves and debris cannot pass through the narrow opening and they continue their downward direction and drop to the ground. (Some gutter protection systems allow leaves and other debris to get into your guttersso you are still stuck with the problem of cleaning your gutters.) Only Gutter Helmet's patented design is so remarkably successful at keeping gutters clean, day after day, and year after year. No wonder more American homes are protected by Gutter Helmet than any other system.
PermaLife High Performance Coating
Gutter Helmet not only saves you time and worryit also adds beauty to your home. Constructed of durable but lightweight aluminum, Gutter Helmet is protected by a patented PermaLife finish, which is available in a number of gutter colors to blend with your home. The textured PermaLife finish is not only beautiful, but it provides ultimate protection from acid rain and other harmful elements in the air. This assures you that Gutter Helmet's original beauty will never become discolored or stained over the years.
Installed with Care by Professionals
Gutter Helmet is installed over your existing gutters by trained professional craftsmen. Before installation, if your existing gutters need cleaning and minor repairs, your Gutter Helmet installer will provide them at no extra charge. All care is taken to protect your landscaping and grounds during the installation of your gutter system. And if your roof is under warranty, it will not be affected by Gutter Helmet installation. Gutter Helmet's methods have been evaluated and approved by major roofing manufacturers.
Who wants to spend a Saturday cleaning out gunk from clogged gutters? GutterFilter has created a gutter protection system that will let your gutters do their job. GutterFilter offers homeowners an affordable, invisible, zero-maintenance protection from leaves, seeds, nests and insects. Want to learn more? Heres how it works: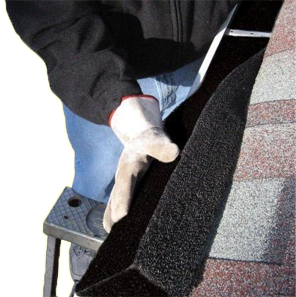 GutterFilter fills your gutter, sealing out all types of debris from the interior and downspouts. No more messy clogs or damage to your home. Water pours through GutterFilter like a sieve, while leaves flow over the top - or just dry up and blow away.
Made from dense, exterior-grade Crystal-Flex Foam, GutterFilter is precisely cut to fit any of twelve styles of gutter. While very porous and pliable, it is also highly resistant to physical stress and UV deterioration. It is formulated to perform in sub-zero or high temperature conditions; desert heat, or ice and snow. As in many synthetic products today such as carpet, food cutting boards, even water bottles, BioCide is a permanent feature of the GutterFilter fiber which safely stops the growth of bacteria, moss and seeds in your gutters - no more baby trees!
Were the best product on the market, and we want to improve your home with our proven gutter protection system.
Contact a Riedel Roofing and Restoration representative today for additional information.
Gutter Remedy Gutter Protection has been Installed on the eves of over a million homes across the country. Using a 25 year old proven system that has been re-designed based on the leading competitor's expired patent and priced at half the cost. "Don't waste your time cleaning and repairing your gutters each year." To prove that we are offering the Best Gutter Protection we include our Lifetime Transferable Warranty adding value to your home.
So how does it work?
Surface Tension! Surface Tension is the tendency of liquid molecules to cling to sold surfaces. Gutter Remedy's nose-forward design utilizes this law of surface tension to keep your gutters clear of everything except rain!
---
ABOUT GUTTER REMEDY
The flow-limiting ribbed design slows and spreads water, causing it to sheet instead of bead.
25 year proven nose-forward design channels rainwater in, while keeping leaves and other debris out.
Traps over 22" of water.
High performance alloy with tough-wearing Kynar 500 finish available in 9 designer colors.
Our proven profile is on over a million homes across the country.
Each install comes with a Free-Flowing and Product Lifetime Warranty.
20% thicker metal than the leading competition
SUPERIOR BRACKET
Screws to your fascia, unlike other brands which usually nail to the top of your roof!
Only Guaranteed "Nose Forward installation" in the industry.
Self supporting design distributes all weight directly to the bracket.
Strengthens and reinforces your existing gutters.
THE GUTTER REMEDY ADVANTAGE
Gutter Remedy brackets do not nail to your roof and are 100% self-supporting, something most competition do not have.
Our design is on millions of homes across the country, Gutter Remedy Gutter Protection may be on your neighbors home, but you would never notice it because of it's sleek design made to fit in with your house's style.
Gutter Remedy material is 20% thicker metal then the leading competition.
High performance alloy with tough-wearing Kynar 500 finish available in 9 designer colors. (Same finish as UPS trucks and John Deere tractors)
Self Supporting design distributes all weight directly to the bracket.
Strengthens and reinforces your existing gutters.
Gutter Remedy can handle twice as much rain as has ever been recorded by the U.S. Weather Bureau.. Up to 24" of rain per hour!
---
LeafX is a premium gutter protection system that is constructed of 100% aluminum, requires no drilling into the roof or fascia of your home, and is only offered by authorized installation experts.
If youve spent any time on a ladder, cleaning your gutters by hand, you know what an exhaustive chore it can be. Our patent-pending LeafX Gutter Protection System will get you off the ladder, giving you the freedom to do more of what you enjoy.
Our unique system is only installed by contractors that have been authorized by the manufacturer.
It also comes with an industry leading Lifetime Guarantee, and protects your gutters from snow & ice, leaves, pine needles, and other debris.
We Guarantee Clog Free Gutters for the Life of Your Gutter
LeafX Clog Free Guarantee/Warranty is Transferable, Thereby Increasing Your Homes Value
LeafX is Constructed of 100% Aluminum, Preventing Corrosion or Fading
LeafX Attaches to Your Existing Gutter, Not the Fascia or Roof of Your Home
LeafX Installs in just 1-2 Days
LeafX is Available in 14 Colors to Match Your Gutter
LeafX Fits New or Existing Gutters of Any Size or Style
LeafX Works With Any Type of Roof and Any Pitch
LeafX Handles Any Rain Ever Recorded

The time is NOW to invest in a true, stand alone and highly profitable business. Offer a truly unique product and give yourself the flexibility of becoming a full service rainware professional.
Enjoy the beauty of your home without the dangerous task of cleaning your gutters ever again. Climbing ladders and hanging off the edge of your roof are a thing of the past. When you get a LEAFAWAY gutter protection system, your gutters stay free and clear of debris regardless of any kind of nasty weather.
LEAFAWAY is the only Dual Leaf Protection System in the industry. LEAFAWAY is roll-formed into a seamless full size 5" K-Style (OGEE) gutter covered by a debris shedding shield with an exclusive pooling design. Liquid adhesion and gravity draw the water into your gutter while shedding debris from your roof, eliminating structural damage caused by failed gutters.
A revolutionary gutter protection system for your home, LEAFAWAY gutter protection system represents a major advancement in one-piece rain carrying systems. You can now enjoy the beauty of your home without the dangerous task of cleaning your clogged gutters. The LEAFAWAY gutter protection systems one piece, seamless design works on the principle of liquid adhesion. Rainwater flows into the gutter trough and deflects wind-blown debris such as leaves, pine cones, needles and twigs which are often collected in conventional gutters by rainwater.
Our Dual Leaf Protection System allows the ultimate in work flexibility. Switching from a LEAFAWAY job to a standard full size 5" K-Style (OGEE) gutter is quick and easy, don't bring in another gutter machine, just convert and GO! You can even offer your clients over 30 color and finish combinations, something noone else can.
Not only will you love the way LEAFAWAY gutters work, youll also love the way they look. Custom fit to your home, LEAFAWAY gutters are available in a wide variety of attractive color combinations and are securely attached to your homes fascia board so your roof and shingles remain unaffected.
Specially designed internal screw mounted brackets secure the system to the fascia board eliminating damaging roof attachments.
Leaf Relief is the most effective gutter protection system on the market.
See how it outperforms the competition!
Compare Leaf Relief to other gutter protection products on the market. You'll see why it is the clear choice for your home.
Whether youre building a new home, adding on or upgrading your current gutter system, Leaf Relief has a product that will fit your needs perfectly!
Performance
Leaf Relief brings real relief to homeowners who need a gutter solution that works, first time, every time. Our patented Aluma-Perf TechnologyTM keeps debris out of gutters, allowing water to flow freely. Debris is then lifted off of gutters by a gentle breeze.
Leaf Relief mounts securely to the gutter system, resisting damage from high winds, heavy snow and ice. The tough aluminum construction of Leaf Relief is indelible and resists damage from bugs, squirrels, raccoons and birds!
Leaf Reliefs unique design ends routine gutter cleaning, lowering maintenance costs and hassles! No more dangerous trips up the ladder! Put an end to your gutter cleaning days with Leaf Relief!
Dont just take our word for it. Independent testing confirmed Leaf Relief works better than other gutter systems on the market! How?
Leaf Entry/Blockage *
* Leaf Relief-100% effective
* Popular Competitors-90% effective
* Wire Mesh-0% effective
Twig Entry/Blockage *
* Leaf Relief-99 to 100% effective
* Popular Competitors-75% effective
* Wire Mesh-0% effective
Pine Needle Entry/Blockage *
* Leaf Relief-97% effective (no water flow reduction)
* Popular Competitors-86% effective
* Wire Mesh-53% effective
Open Water Flow **
* 29.7 inches of water per hour (20 foot roof section).
Thats 2.5 times greater than the official rainfall world record (Kilauea, Hawaii- 12 inches in one hour).
* Obstructed Water Flow **
* 19 inches of water per hour when covered with wet leaves (20 foot roof section).
Still 1.5 times greater than the world record.
Clearing of Debris **
* Most dry debris is cleared from surface with 6 mph breeze. When still wet, debris is removed with 23 mph wind.
Strength **
* SN5200 53% stronger than standard hangers at 24 on-center fastening
* TP5300 91 pounds is required to deflect system by 1 inch when fastened at 16 on-center
Weather Resistant *
* No detrimental or damaging effects at 110 mph wind speed when fastened 16 inches on center.